This Samsung RU7100 43 review gives you a detailed sneak peek at what this budget TV set can do. Is the 43RU7100 a TV that gives a powerful performance at an attractive price?
The balance between price and performance in the Samsung RU7100 43 review
There are always trade-offs when it comes to electronic devices; or any product for that matter. Does this 43-inch Samsung from the RU7100 product line perform in terms of features and picture quality?
Read on to see the areas in which the TV shines and to examine the drawbacks of the panel. This Samsung RU7100 43 review helps you make an informed choice as you shop for a great deal.
Design
This 43-inch display has a simple, understated design. The back of the TV curves outwards, which brings its maximum depth to 2.3 inches. While the 43-inch RU 7100 isn't the slimmest TV in the world, it will still hug the wall should you choose to mount it. If you opt to install it on a table stand, you'll need a surface that's wide enough to accommodate the 8.3-inch footprint of a pair of very wide, very stable TV legs.
There's a solitary control button on the bottom edge of the TV, right under the Samsung logo. The back panel is textured, with a set of slots that help with cable management. If you opt to place your TV on a stand, the TV legs will also help with the cables.
The inputs are housed in two insets that sit left of the 200×200 VESA wall mount pattern. One of the insets has rear-facing ports that would be hard to access should you mount the TV.
Samsung RU7100 43 review: IO and connectivity
The Samsung 43RU7100 has three HDMI ports, two USB ports, a 3.5mm audio line out, an Ethernet port and some component ports for older AV devices. The digital optical audio output and the third HDMI port implement audio return channels, allowing the 43RU7100 to support Dolby digital. There's also a coax connector for your antenna or cable box.
As for wireless connectivity, the RU7100 series has a WiFi adapter that works with both the 2.4GHz and 5GHz bandwidths. This comes in handy when you need to pair the TV with a smart speaker or some other smart home device.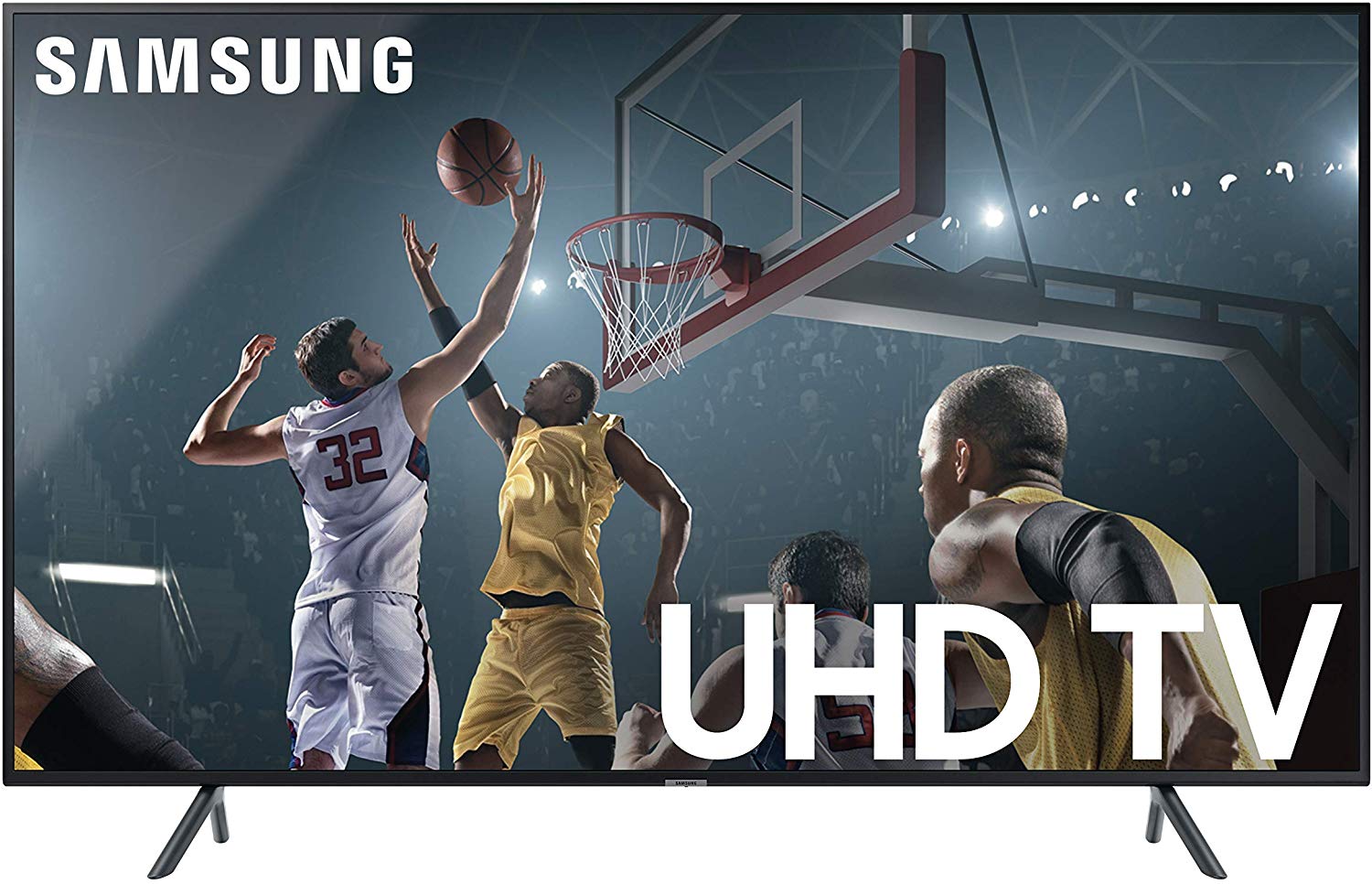 Smart features
The RU7100 series runs on the 2019 version of Tizen Samsung's proprietary OS. The interface comes with all your favorite apps and support for a wide variety of smart home devices. Samsung does a great job of creating a smooth interface that has a minimalist home screen and simple menu arrangements.
You'll appreciate how the TV automatically detects the type of gaming console you're using. The RU7100 changes its picture presets from movie mode to gaming mode the minute it detects an active console.
Although this redux version of Tizen doesn't come with Bixby, it can pair with a smart speaker. This allows you to use an Echo or Google Nest device to control the TV.
[Read what others are saying about this TV]
Samsung RU7100 43 review: Picture quality
Picture quality is the main performance metric that informs the worth of a display. Because television is a visual medium, we'll spend a chunk of this review breaking down the concept of picture quality. We start with color.
1. Color gamut
The Samsung 43RU7100 is a UHD panel that puts its high concentration of pixels to good use. Despite the lack of a wide color gamut the TV still manages to render accurate colors, right out of the box.
2. Peak brightness and HDR support
Good peak brightness levels add depth to a color gamut, adding new shades and variations to the existing palette. At a peak level of less than 300 nits, RU7100 panels don't have the highest brightness levels. This limits the color volume available to RU7100 displays.
What does this mean? Though the RU7100 supports HDR formats like HDR10 and HLG, the panel can only do so much to reproduce vivid, true-to-life HDR content.
3. Black levels, contrast, detail and sharpness
The Samsung 43RU7100 is an edge-lit panel, so you should expect a small amount of light bleedthrough in dark scenes. The black levels of this panel go as low as 0.043 nits. While this is not as dark as higher-end Samsung models, it is enough to produce a native contrast ratio of around 5000:1.
The impressive native contrast allows RU7100 panels to execute small details and clear outlines. That said, the level of detailing becomes less defined in dark scenes. This is one area where local dimming could have helped.
4. Viewing angles
Being a VA panel, the Samsung 43RU7100 has narrow viewing angles. If you watch the TV at a viewing angle greater than 35 degrees, the screen starts to dim and the colors begin to lose their accuracy.
5. Screen uniformity
The 43-inch RU7100 has great black and grey uniformity, making this display the perfect budget TV for sports. You can watch your favorite team without fear of the pitch turning dirty brown as the camera pans to follow the ball.
6. Input lag and gaming
VA panels have very low input lag and the 43RU7100 is no different. This responsive panel allows for enjoyable gameplay, making it a gaming TV.
7. Motion handling
The responsiveness of the Samsung 43" RU7100 doesn't translate to great motion handling. You will notice some trailing and motion blur during fast action scenes, especially those shot in dim lighting.
Sound
The 43RU7100 has a pair of 20W drivers that do a good job of producing treble sound frequencies. However, the internal speakers of the TV cannot recreate deep, rumbling bass. If you buy this TV, arrange for external sound.
Pros
Affordable
Good build quality
4K resolution allows the display to render rich, accurate colors
The TV supports HDR formats
The Samsung RU7100 series uses VA panels with low input lag, which is great news for gamers
VA panels also have a very low risk of burn-in
The TV legs and back panel have allowances for cable management
Cons
This panel is dim, which is odd for a Samsung panel
Being a VA display, the Samsung RU7100 has narrow viewing angles
The motion handling of this screen is good, but not excellent
No opt-out for ads
Samsung RU7100 43 review: This budget TV is a bargain
If you're looking for a high-performance TV that won't put a hole in your wallet, the Samsung 43R7100 comes close. From the accurate color reproduction to the great responsiveness during gameplay, this TV works well. Click here to purchase one.