*** TVReviewland.com earns commissions on qualifying purchases made through affiliate links ***
Our HP Pavilion 15.6 Horizon Blue Laptop review is for anyone who is currently looking for a new laptop that does not require emptying your piggy bank. It is a slick, thin notebook that gives you fast app loading and crystal-clear pictures.
Let's head right into our HP Pavilion 15.6 Horizon Blue Laptop review to determine if this notebook should be on your shopping list.
HP Pavilion 15.6 Horizon Blue Laptop review: First thoughts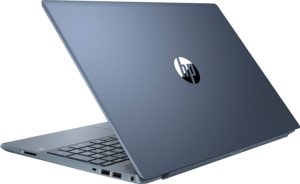 The 15.6-inch display of the Horizon Blue makes it one of the smaller notebooks around. It makes transporting it around that much easier since it fits into pretty much any bag or laptop case you have. It is powered by an AMD processor that gives you 2.4GHz of processing power. That is enough processing power to handle tasks like coding, browsing, watching videos, or playing most PC games.
It comes with 512GB of SSD storage which allows for fast booting of the computer and fast loading of applications. It is estimated that SSD drives are up to 15 times faster than HDD storage.
Users only need to hit the standby button to disconnect from their wireless network, without interrupting any scheduled downloads or updates.
[Read what others are saying about this notebook]
The Horizon Blue comes with a full-size keyboard so you can work without having to adjust to smaller keys. Users can connect their smart and audio devices to the laptop by Bluetooth. Other noteworthy features of the Horizon include:
Comes with Windows 10
15.6-inch 1920 x 1080p micro-edge, BrightView, IPS display
AMD Ryzen 5 4500U processor – 6 cores
8GB of DDR4 SD RAM
AMS Radeon Graphics card
B&O powered audio with two speakers
HP Wide Vision 720p HD camera with dual digital microphones
512 GB SSD
2.37 GHz processor speed
Pros:
Great school and work laptop
Smaller than most laptops but has a full-sized keyboard
SSD storage
Cons:
Not powerful enough for resource-intense games like COD or Fortnight
Can't upgrade the RAM past 8 GB
HP Pavilion 15.6 Horizon Blue Laptop review verdict: Great for school or work
The new Horizon Blue has everything most people need in a school or work computer. It has a moderately powered processor that gives you fast startups and application loading times, and it comes with enough RAM to multitask with multiple applications. Click here to learn more about this laptop.
Read more:
Acer ED320QR Review: A Well-Rounded Gaming Monitor
Gigabyte M27Q Review: Impressive on Many Levels
JVC 58-Inch TV Review: Burn-In Free Pictures
Digital Storm Lynx Model 1 Review
MacBook Air M1 Review: A Game Changer