*** TVReviewland.com earns commissions on qualifying purchases made through affiliate links ***
Our MacBook Air M1 review explores the performance and features of the new notebook that comes with the newly-released chip. The Air, along with the Mac Mini and Mac Pro are the first three devices that will be launched with the cutting-edge chip.
Let's jump into our Apple MacBook Air M1 review to see if this is just another notebook or something that stands out from the competition.
MacBook Air M1 review: First thoughts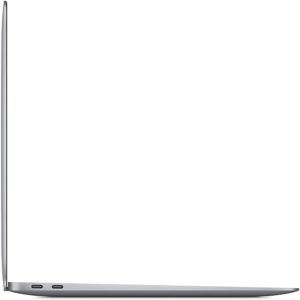 Apple views its new Macs as the best way to showcase what the hyped M1 chip can do. The battery life on its own is impressive, with 17+ hours of web browsing and up to 20 hours when playing videos. There has never been a MacBook model with batteries that give you this much and we can't think of any other notebook with this much battery life either. You can head to work without taking your charger, and an eight-hour workday might only use about half of the battery life. It's kind of insane when you think about it.
There's still a lot to be learned about the new releases, but Apple claims they will be able to process graphics five times faster. The Air M1 notebook comes with all the things you expect like a webcam, a touch bar, and an enhanced microphone.
[Read what others are saying about this notebook]
The entry-level product comes with two USB ports, 8GB of RAM, and 512 GB of storage. You have the option of upgrading the RAM and storage to 16GB and 2TB respectively when making a purchase.
Other noteworthy features of Apple's new release include:
Compile code in Xcode about three times faster
Run complex 3D titles up to six times faster
Export web projects three times faster
Playback and edit multiple 4K videos without losing a frame
Faster uploads of pictures
Video chats and FaceTime last longer on a full charge
16-core Neural Engine that delivers improved machine learning
SSD storage for faster launching of the applications
Up to eight GPU cores
Eight CPU cores deliver over three times the processing power of previous models
MacBook Air M1 review verdict: Seems very promising
The M1 chip has led to a significant improvement in the performance and battery life of the MacBook series. With prices expected to be the same as previous models, anyone who likes MacBooks will love these. Click here to learn more about the new Notebook.
Read more:
Acer ED320QR Review: A Well-Rounded Gaming Monitor
Gigabyte M27Q Review: Impressive on Many Levels
JVC 58-Inch TV Review: Burn-In Free Pictures
Digital Storm Lynx Model 1 Review