*** TVReviewland.com earns commissions on qualifying purchases made through affiliate links ***
Our Samsung S95B review reveals that this television does the Samsung brand proud and lives up to the hype and reputation that this company is known for. At 55 inches, this television is the appropriate size for a mid-sized living room or bedroom. This television has OLED technology for vivid pictures that make you feel like you are part of the action as you watch your favorite blockbusters. Dolby Atmos technology brings explosions to life, while the slim design gives this television a minimalist and elegant look.
Samsung S95B review: First thoughts
Whether you want to play fast-paced action games or watch animation and cartoons, the Samsung S95B television is up to any task. This television has a Smart TV hub that allows you to stream your favorite music, shows, movies, and games. The motion accelerator feature gives sports and video games a crisp and smooth look, while the Quantum HDR OLED technology offers unmatched clarity and color.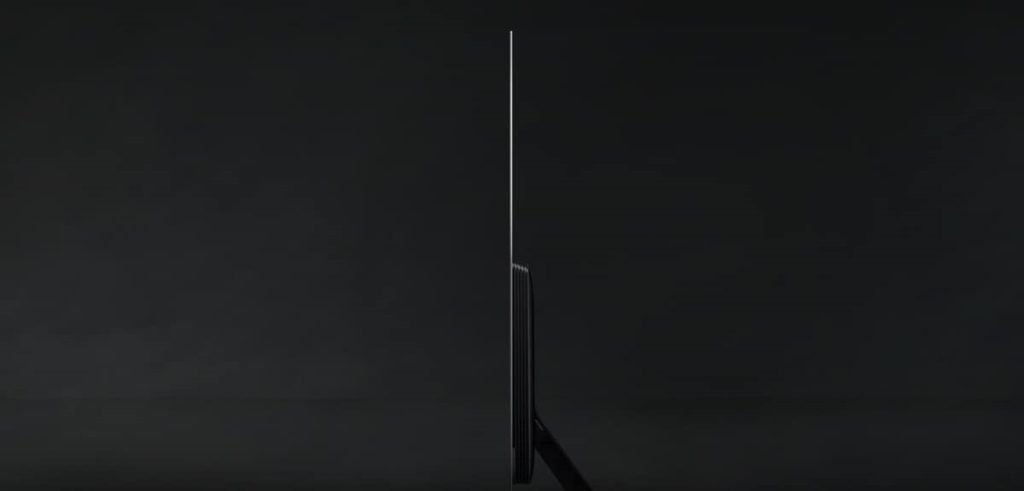 The Samsung S95B marries quantum dots with OLED technology, allowing you to watch your shows clearly in any room, even if you don't have blackout curtains. If you love to play video games, this television will not disappoint. The light dimming feature allows you to see true blacks and high contrast scenes for a more enjoyable viewing experience.
Product overview
Our Samsung S95B review shows this television lives up to Samsung's stellar reputation and offers premium quality to viewers. At 55 inches, this television is large enough to allow you to take in all the sights and sounds of your favorite show from the comfort of your living room. This television comes in a box with a remote controller, power cable, user manual, and Samsung Smart Control.
The Samsung S95B has an elegant, slim design, which looks great from the side. This slim design also makes this television very light in weight. In terms of connectivity, this television has 4 HDMI ports and 2 USB ports. The Samsung S95B runs the Tizen smart television platform and has a home screen that features a gaming hub and a media screen. The gaming hub makes it easier to play games right from your home screen. The media screen is a dashboard for all your streaming applications. This television also comes with an Eco Remote, which features rechargeable batteries.
The Samsung S95B uses OLED technology, with 8.3 million self-illuminating pixels for a cinematic viewing experience. The exceptional contrast allows you to see drops of dew on grass and the different colors of a rainforest in a way that brings these images to life. The HDR feature offers unimaginable vibrancy, allowing you to take in and enjoy the bright colors of your favorite cartoons. The Dolby Atmos technology makes every sound more realistic, from raindrops to explosions.
[Read what others are saying about this television]
Samsung S95B review: Key features
Some of the most interesting features of the S95B TV include:
Samsung OLED technology
Thanks to the OLED and quantum dot technology, pictures come to life when watching this television. The Samsung S95B has 8.3 self-illuminating pixels for clear and detailed images. This makes shows with vibrant colors, such as David Attenborough's Green Planet documentary, more cinematic and immersive. This feature also increases contrast and depth, allowing you to see the animals and vegetation in the series how your eyes would perceive them in real life.
Eye comfort mode
Say goodbye to eye fatigue with Samsung's eye comfort mode feature. This television has sunrise and sunset times built-in and uses AI technology to adapt the display and reduce the amount of blue light it emits. This helps keep your eyes more comfortable while you watch television, especially at night.
Dolby Atmos and Object Tracking Sound
Dolby Atmos technology adds height channels and allows you to interpret sounds as 3D objects for an immersive audio experience. The object tracking sound feature analyzes the sound coming from the show or movie and sends it to the relevant speakers. For example, it will feel like the sounds of rain or whirring helicopters are coming from above you.
Neural Quantum Processor with 4K upscaling
This television has an AI-powered processor that enhances the pictures in every scene and drives the television's smart hub and Dolby Atmos sound. The Samsung S95B also features 4K upscaling that transforms low-resolution content into 4K for better quality videos and images.
Quantum HDR
Quantum HDR ensures peak brightness while still preserving the images' details, color accuracy, and luminance. This ensures that any hidden details in dark or bright videos are clear. As a result, you can view the videos and images exactly as the director intended.
Pros
Excellent picture quality
Dolby Atmos surround sound
Slim design
Wide-angle viewing
Incredible contrast and black levels
HDR feature that delivers crystal clear images and bright colors
4K upscaling transforms lower resolution videos to 4K
Motion Xcelerator reduces blur and input lag
Comfort mode reduces blue light for a comfortable viewing experience
Real depth enhancer increases foreground contrast for more depth
Built-in Alexa, Bixby, and Google Assistant
120Hz refresh rate makes it excellent for gaming
Cons
The price is relatively high
No Dolby Vision
Frequently Asked Questions (FAQs)
Can I mount this television on my wall?
You can mount this television on your wall using a wall mount that supports the 300mm x 200mm VESA pattern.
Does this television have burn-in like other OLED TVs?
This Samsung television uses the latest technology to reduce the risk of burn-in.
Does this television come with an HDMI cable?
No, this television does not come with an HDMI cable. However, you can use any high-speed HDMI cable with an Ethernet channel, often referred to as HDMI HEC cable.
Samsung S95B review final verdict: Worth every penny
Our Samsung S95B review concludes that this television is one of the best around. It allows you to immerse yourself in all your favorite shows and movies. This television features clear screens and rich sounds, taking your viewing experience to the next level. This television comes at a premium price, but good quality always comes at a price. This television is gaming-friendly, movie-friendly, and show-friendly, making it worth every penny. Click here to learn more about this television.
Read more:
HP X27Q Review: Impressive Gaming/Work Monitor
WeCrashed Review: A Story of Ego, Ambition, and Love
Halo TV Show Review: An Interesting Expansion of the Video Game Series
LG UP7000 review: One of the Best Mid-Range TVs