*** TVReviewland.com earns commissions on qualifying purchases made through affiliate links ***
Today's Samsung UN55RU7300FXZA review finds out if a curved TV can deliver on both affordability and picture quality. The subject of this review is the RU7300 series: Samsung's 2019 take on an affordable 4K TV with a curved screen.
Let's review the performance of the 55-inch Samsung RU7300 and learn what it can do.
Samsung UN55RU7300FXZA review: Unpacking
There isn't much in the way of media cables inside the package that contains the RU7300. Samsung leaves you to find your own. The TV only ships with a power cable, a remote, a pair of batteries, and a set of VESA spacers. You'll also find a pair of legs and a pack of screws to hold the legs in place.
The back panel and legs of the TV have allowances for cable management, so the manufacturer includes clips to secure your cables. Lastly, the package contains a user manual to guide you through installation, setup, and use.
Design
The RU7300 makes a good first impression. Its curvature goes nicely with the angular, metallic legs it sits on. Being a curved TV, the 55-inch RU7300 has a wide footprint (10.4 inches). Your entertainment center needs to be at least 45 inches long to accommodate the TV legs.
At a maximum thickness of about four inches, the RU7300 sticks out from the wall if you mount it. The build quality of the television is good, with a chassis of solid plastic and metallic trim on its outer edges. The lower bezel has a Samsung logo in the middle and a single button under said logo. Use the user manual to learn how to execute different commands using this button.
The back panel has an uneven, linear texture that gives the TV a premium feel. In addition to a 200×200 wall mount pattern, it also has grooves for cable management and two insets that house a selection of input ports.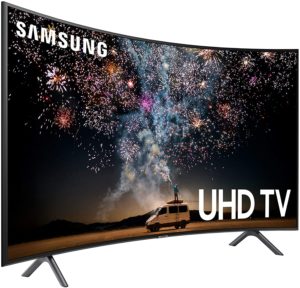 Samsung UN55RU7300FXZA review: Inputs and connectivity
There's enough at the back of the TV to connect to a variety of devices. Here's what you're working with:
Three HDMI ports
An optical audio port
Two USB ports
A set of component AV ports
Two USB ports
An Ethernet port
A coaxial cable/antenna connector
As for connectivity, the wireless adapter in the TV hardware allows for Bluetooth and Wi-Fi connectivity. The TV can connect to both 2.4GHz and 5 GHz Wi-Fi networks.
Interface and smart functions
SmartHub user interface derives from Tizen, Samsung's proprietary OS. It is in essence Tizen minus a few features.
That's not to say that the interface is lacking in any way. It comes with all the popular apps as well as a well-stocked app store. Being a lighter version of Tizen, SmartHub is quick on its feet and will load the YouTube app in two seconds. Better still, setup is as easy as following a series of prompts and providing a few bits of information.
The simple home screen has a ribbon of apps, inputs, and frequently selected channels. As SmartHub learns your preferences, it will adjust the ribbon to create a customized menu. The interface also acts as a smart hub that can control compatible devices in its home network.
[Read what others are saying about this TV]
Samsung UN55RU7300FXZA review: Hardware and picture quality
The RU7300 is a curved VA panel with 4K resolution and a 60Hz refresh rate. Being an entry-level TV, the panel only has LED backlights along the edges of the TV. Edge-lit displays are incapable of local dimming, which limits how well the RU7300 renders contrast and detail.
On the other hand, VA panels are famous for their low input lag and good response times. VA screens are also known for their excellent picture quality. Is the RU7300 one of those panels? A closer look at the screen's picture quality answers this question.
1. Color gamut and color accuracy
RU7300 screens lack the wide color gamut of a QLED TV. This narrow color palette affects how accurately the displays reproduce HDR color. However, the TV delivers SDR content with colors that closely match the digital of a given input signal.
The TV renders accurate, if not slightly warm, colors right out of the box. A little calibration lowers the color temperature to remove that reddish tint. More calibration also adjusts the white balance and color delta of the screen. Combined, changes to the three metrics produces colors that are accurate and appropriately bright. This brings us to the second aspect of great-looking HDR content: Brightness.
2. Brightness
With a peak brightness level of 290nits in SDR and 280 nits in HDR, the UN55RU7300 is dim. To produce stunning HDR content, a wide-screen TV should have brightness levels of at least 400cd/m2. This means that 290 nits limit the available color volume for HDR content.
The RU7300 is also dim in a bright room, which has two effects. The first is that content will be hard to see. Second, the dim TV allows glare that is further amplified by the curvature of the screen.
3. Contrast and shadow contouring
Contrast describes the difference between the brightest and dimmest colors that a display can create. The RU7300 has a contrast ratio of 6000:1, which implies an impressive black level of less than 0.05 nits. Calibration enhances the already excellent contrast of the TV with good detail and shadow contouring.
4. Viewing angles
The 55-inch RU7300 has narrow viewing angles, a drawback that's common with VA panels. At 45 degrees from the center, you will start to notice a loss in brightness. At 30 degrees you will notice the colors start to wash out.
The decrease in brightness, color accuracy, and contrast also muddy fine detail and texture.
5. Motion handling: Input lag and response time
You want a TV that renders fast-moving content without breaking a sweat. VA panels are famous for doing just that. So it makes sense that the RU7300 has an input lag of only 10 seconds. This makes for seamless gameplay as the TV renders your every command in a split-second. Despite the lack of a variable refresh rate, you are unlikely to experience screen tearing on this display.
The RU7300 doesn't perform as well when it comes to response time. It takes the panel between 8.4 and 20 milliseconds to switch from one color to another. This is pretty long for a VA panel and you may notice some trailing or motion blur during fast-action content.
In movie mode, the backlight flickers at a rate of 240Hz. This, combined with the high response time, results in motion duplication. The default flicker rate of 120Hz may be noticeable.
6. Video upscaling
The 55-inch RU7300 has a 4K chipset that processes lower-resolution video into 4K. So whether you cast a 480p clip on your phone, or watch a 720p movie on a hard drive, the TV will upscale your content to match its native 4K resolution.
Sound
You can get away with using the internal speakers of the NU55RU7300. The dual-channel speakers have a combined output of 20 watts, which doesn't seem like a lot. However, the fact that the bass extends to 80Hz means that the TV produces clear sound with decent bass. Still, an external sound system will make a world of difference.
Pros
Attractive pricing for a curved screen
Sleek design and a solid build
4K resolution
Good color accuracy
Low input lag makes for enjoyable gaming
Support for HDR, HDR10 and HLG formats
Cons
The RU7300 is more expensive than flat screens with similar specs
This TV is dim, which affects how it renders HDR content
Narrow color gamut, which also affects how the display renders HDR content
Narrow viewing angles
High response time causes a degree of trailing and motion blur
The curvature of the screen makes it more reflective
Sponsored ads with no allowance to opt-out
Samsung UN55RU7300FXZA review verdict: Easy on the eye, good picture, great user experience
The gentle curves of the UN55RU7300 make this TV a statement piece that adds to the decor of a room. Does the curved screen have the added advantage of creating an immersive TV experience? Only if you sit close to the screen. That's not to say that the RU7300 is underwhelming in any way.
Today's Samsung UN55RU7300FXZA review reveals a 4K display with good picture quality and a smooth user interface. This makes the 55-inch Samsung RU7300 more than just a pretty chassis. Just remember to manage the ambient light in your space. Click here to learn more about this TV.
Read more:
Samsung Q70 Series Review: Good Performance at a Good Price
Sony 85-inch TV XBR85X850F Ultra 4K HD: Is It Too Big to Succeed?
Samsung Crystal UHD Review: Good Picture Quality for a Good Price
QLED vs OLED: The Samsung-LG Battle for Picture Quality Supremacy