*** TVReviewland.com earns commissions on qualifying purchases made through affiliate links ***
Here's an LG 65UP7050PUJ review that walks you through the features of an affordable 4K TV. The LG UP7050 series has been around for a while, so you get the benefit of unbeatable pricing for solid performance. You also get the advantage of feedback from buyers with months of hands-on experience with this 4K smart TV.
Let's jump right into our LG 65UP7050PUJ review to explore the charms and annoyances of this mid-range TV with an entry-level price tag.
LG 65UP7050PUJ review: Design and build
The 65-inch LG UP70 has the type of simple design that you find with versatile home décor. This display panel sits in a charcoal-black cabinet with texture that changes on different parts of the chassis. Glossy bezels double as gray accents that break up the matte black color of the chassis. The lower edge of the TV houses the logo and a single multi-function button.
At 3.5 inches at its thickest point, the LG 65UP7050PUJ is chunky by today's standards. This won't stop you from executing a neat wall-mount installation with the LG 7050 TV sets. The only issue with a wall-mount setup is that most ports become hard to reach. You'll need a mounting bracket that matches the display's wall 400×300 mount pattern.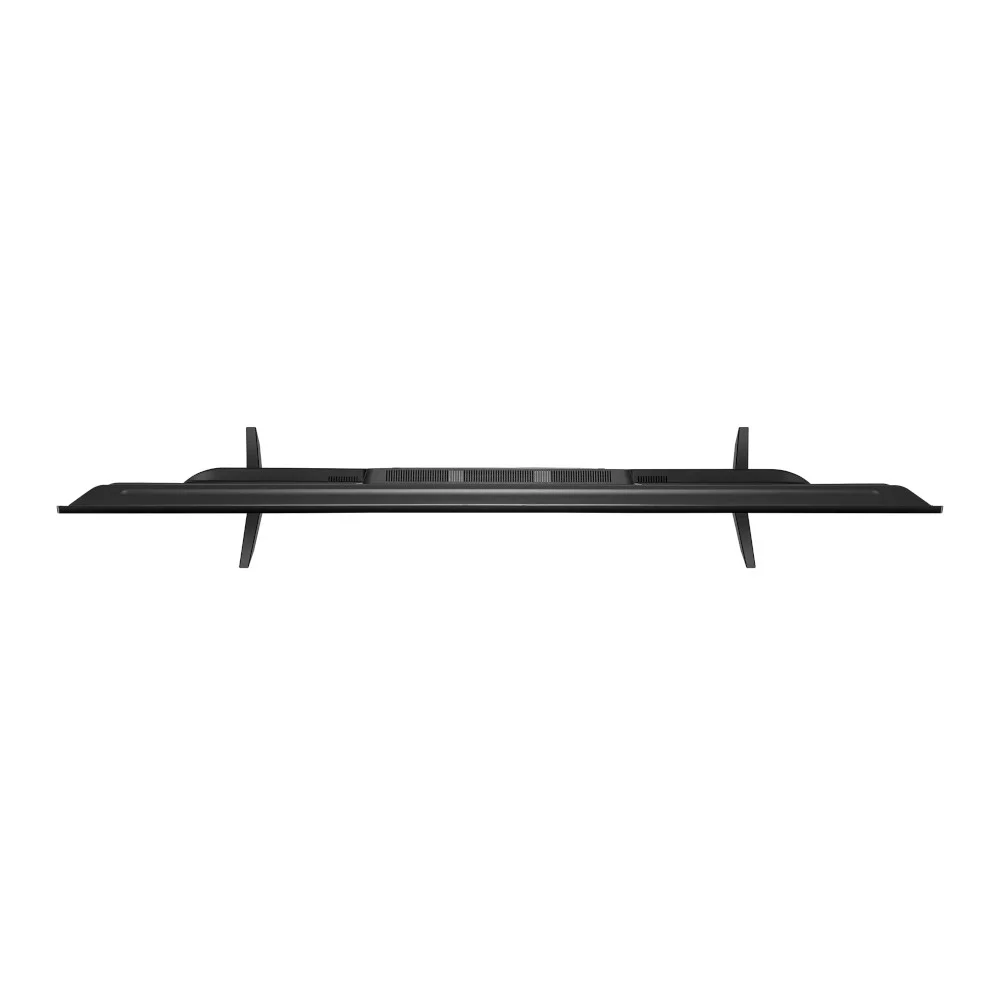 Placing the 65-inch LG UP7050 on an entertainment stand is also an option. For that, you would need furniture that can accommodate TV legs with a 47.5″ x 12.8″ footprint. The TV legs leave 3.5 inches between the furniture surface and the lower edge of the TV. This is more than enough space for most soundbars.
The back panel of the LG UP70 is bare except for a wall-mount pattern and two sets of ports. LG puts the inset that houses the ports at the center of the panel, which is a curious design choice. The placement of the ports makes them hard to reach, especially with a wall-mount setup.
LG 65UP7050PUJ review: Inputs and wireless connectivity
You'll have to make do with two HDMI 2.0 ports, a digital optical output, one USB port, and an Ethernet jack. Lastly, an RF connector lets you hook up your antenna or cable box. The limited selection of ports is one of the tradeoffs you have to make for unbeatable pricing.
HDMI2 supports audio pass-through for Dolby Digital and Dolby Atmos formats. Unfortunately, the port lacks support for DTS audio formats, which limits the sound quality of your Blu-ray content.
A dual-band wireless adapter provides WiFi connectivity for the internet and compatible devices on your home network. The same adapter provides Bluetooth connectivity that you can use to link the TV to your mobile devices or wireless audio equipment.
[Read what others are saying about this television]
Smart TV interface
LG uses its proprietary webOS on most of its televisions, including the UP70 product line. The platform should respond instantly to user inputs, with smooth motion as you move between menu items. Some buyer feedback describes slight lag and the odd glitch, which you can correct with an update.
WebOS comes with the usual selection of features, namely:
Plenty of streaming apps and productivity tools available, both pre-installed and in the LG content store
Support for Apple Airplay 2 and Apple Homekit
Compatible with the Google Home platform
Support for Alexa
The WebOS platform also has functionality for picture setting calibration and gaming support. You can also use the interface as a dashboard to access and manage compatible smart home devices.
LG 65UP7050PUJ review: Hardware and image quality
The LG 65UP7050 is a 60Hz IPS panel with 4K resolution and direct-array backlighting. For a TV that supports HDR content, the LG UP7050 has a color gamut that is narrower than we'd like. This is where the panel's circuitry works a little magic with the available color space. Color accuracy is middling right out of the box but fantastic after a few adjustments to the picture settings.
Another metric of solid HDR picture quality is brightness. A display must be bright enough to deliver brilliant HDR highlights and fine detail that jumps off the screen. On this count, the LG UP7050 manages a decent peak brightness level of 350 nits. For context, comparable TVs from competing brands can reach peak brightness levels of 500 nits. Again, the circuitry of the UP7050 series picks up the slack to weave decent-looking HDR scenes.
Motion handling is where the LG UP70 series excels. The panel boasts an input lag of only 10.3ms, which is impressive. This number translates to a responsive user interface and a gaming screen that gamers will enjoy. It takes 15.6 seconds for individual pixels to change colors in response to changes in a signal stream. From a viewer's perspective, the response time means minor motion blur when a group of pixels switch from dark to bright colors. Here is how the hardware performs from a buyer's point of view.
1. Color, brightness, contrast, and HDR content
Some users may notice a tinge of blue in images with pale, low-saturation colors. This blue artifact results from a cool color temperature that you can minimize with a few adjustments to the picture settings.
Apart from this limitation, the color gamut and brightness of the UP70 series deliver vibrant color. The LG UP7050 also does a decent job of creating hues that mimic the behavior of light on different surfaces.
A low native contrast ratio limits the panel's ability to render darker colors that are fully saturated. Still, the UP7050 uses its processor and native contrast ratio to deliver fine detail in bright scenes. You will appreciate the panel's delivery of texture and depth in bright images. However, detail, contouring, and texture lose some definition in dark images.
2. Viewing angles
The 65-inch LG U7050 has wide viewing angles that allow for expansive seating arrangements. Images remain bright, and colors remain accurate as you move to the side of the TV.
3. Screen uniformity
With a few caveats, you get good black and gray uniformity from the 65UP7050. For one, the black levels of this panel are on the high side, which explains the low contrast ratio. As a result, the black colors have a tinge of blue instead of the velvety darkness of flagship models. Some buyers also report light bleed-through along the edges of the TV. This is probably a result of assembly issues (pinching and tightness at the edges) with individual TV sets.
From a user perspective, the LG 65UP7050 works best with content you watch in bright ambient light. Sports and TV shows look pretty good on this TV. There's no noticeable dirty screen effect when watching matches on football or baseball fields. Watching gloomy movies in a dark room is less optimal because of light bleed-through and blacks that are brighter than they should be.
4. Motion handling
Enjoy minimal motion blur and a responsive screen, thanks to a decent response time and low input lag. This makes the LG 65UP7050 a good fit for fast-action content like sports and gaming. Gamers should note that the TV renders content with a maximum frame rate of 60 fps.
Pros
Affordable
Solid build
Support for Alexa and Google Assistant
Decent picture quality
Wide viewing angles
Good motion handling
Basic gaming features like automatic low-latency mode
Cons
Light bleed-through that is more visible in dim lighting or dark scenes
This TV has way fewer ports than most TVs on the market
The remote is a challenge because of clutter and a cramped layout
Shaky WiFi connectivity
Lacks gaming features like VRR and support for 4k/120 content
LG 65UP7050PUJ review verdict: Performance matches pricing
This LG 65UP7050PUJ review finds a feature-rich smart TV with 4K resolution and excellent picture quality. The best part is that you can enjoy these core benefits without breaking the bank. The tradeoff is that you need to do a firmware update to iron out a few kinks in the WebOS platform.
Once the kinks are out of the way, you can enjoy an immersive experience with your favorite TV show, sports tournament, or game title. Click here to learn more about this television.
Read more:
MSI Gaming Trio 4090 Review: Runs Cool and Quiet, with Triple-Digit Frame Rates
Samsung Q80BD Review: One of the Best TVs Money Can Buy
Sony X90CK Review: Can Decent Performance Fend Off Stiff Competition?
Hisense 75U8H Review: Excellent Image Quality Inside a Mixed Bag
Element 58 4K UHD Roku TV Review: A No-Frills Budget Widescreen That Covers The Basics