*** TVReviewland.com earns commissions on qualifying purchases made through affiliate links ***
Let's get right into our ARRIS SB8200 review. Cable TV gives you access to massive amounts of content from numerous TV channels. Yet your cable provider can do so much more than provide over the air TV channels. With the right cable modem, you can get high-speed internet along with the usual TV services.
Usually, the cable company provides its subscribers with a modem, for a small monthly fee. The speed of the internet that makes it to your devices will depend on the quality of the provider's modem.
You can take more control and buy your own modem. You will need to find one that actually uses up all the bandwidth that you pay for. This ARRIS SB8200 review will point you in the right direction.
One such modem is the ARRIS SURFboard 8200 Gigabit cable modem which we recently reviewed. It harnesses DOCSIS 3.1 technology to make full use of the bandwidth allocated to you. Let us see how well this cable modem performs, based on different metrics.
ARRIS SB8200 review part 1: What is in the box?
Along with the modem, you should have a power adapter, an Ethernet cable and a user manual that you will need to set up the modem. The modem comes with a warranty and a few other pieces of documentation.
Design
The ARRIS SB8200 has a basic, understated design. It is a small, white box that measures 1.7 inches across, 5.1 inches deep and 5.2 inches high. It looks a lot like a small desktop computer, with a base lined in black rubber to prevent slippage. The device has a matte plastic shell that prevents smudges and fingerprints. The shell also has lots of vents and gaps to allow for air circulation.
The front face of the modem has four LEDs that come in the form of cheerful icons. These are arranged vertically in the following order: Power, download link, upload link and connection status.
All the ports of the SB8200 are at the back. They too are arranged vertically, in the following order: Two Gigabit Ethernet ports, a cable connector and a power port.
Setup
Installing the modem is straightforward, thanks to its simple design and a comprehensive user manual. You simply need to power the modem, connect it to the cable outlet and connect a router to one of the gigabit ports.
Before the modem can get to work, you will need to register it with your cable provider. You can do this over the phone. However, most cable providers allow you to register your new modem online. In both cases, you will need to provide the MAC address and serial number of the device.
After you are through with registration, your modem should be good to go and you can use an Ethernet cable to connect any device you want. Ideally, this device should be a router or a gaming console. This ARRIS SB8200 review is just getting started.
Chipset and connectivity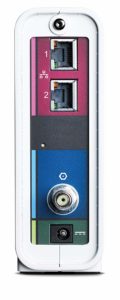 ARRIS is known for its high-performance products, and the SB8200 is one of them. It is powered by the Broadcom BCM3390, a high-performance chipset that ensures minimal latency. The chipset allows for brilliant performance with regards to gaming speeds, streaming and internet speed.
The modem also has 3GB RAM and two sets of flash memory. One has a capacity of 128MB and the other 16MB. Combined, the chipset and memory allow the SB8200 to support DOCSIS 3.0 and 3.1. The result is a modem that receives data via the cable system at speeds of up to 5GBPS. At least that is what the packaging says.
Speed and throughput
In reality, the hardware only allows as much throughput as the cable company provides. This means that for a 1GB connection, the SB8200 will use around 950 Mbps bandwidth at any given time. This is an excellent performance, and all you need to achieve it is a high-quality router.
Unlike many of its peers, the ARRIS SB8200 has two Ethernet ports, which can be useful. For one, you can use each port to implement separate home networks, which will increase the throughput and overall performance of the modem. That said, you will need a new IP address for the second network. Some cable providers will give you an address, sometimes at a fee. Others simply do not offer two IP addresses to a single subscriber.
Also, multiple GE ports also allow for link aggregation, where the two ports combine to form a link aggregation group with a combined bandwidth of 2GB. That said, few ISPs offer link aggregation, so you will have to check with your provider. For now, link aggregation remains a little ahead of its time. We'll go over a few more noteworthy features before we wrap up this ARRIS SB8200 review.
Channels
The modem has 32 downstream channels and eight upstream channels. The large number of channels only improves the performance of the SB8200. You should expect zero congestion and therefore zero latency.
ARRIS provides an online spectrum analyzer that you can use to keep tabs on the performance of the modem. You can also use the analyzer to track the speed and health of the cable connection's radio spectrum.
You should know that the modem's performance will only be as good as the quality of the home network. This means that a slow router will be unable to take full advantage of the modem's power. It also means that a network with many devices will have more demands to its bandwidth, making it slower than a network with one or two devices.
Gaming
If you are a serious gamer, you need to hook up your gaming setup to one of the Ethernet ports. You will experience a revelation.
Whenever you connect an end-user device directly to the modem, you get to enjoy top internet speeds. For a gamer, this translates to near-zero lag as well as excellent graphics and picture quality. This makes the SB8200 the ideal modem for a little competitive gaming.
Picture Quality
The SB8200 supports HD and UHD/4K content, so you can stream all the HD content you want. We will wrap up this ARRIS SB8200 review by going over the pros and cons.
[Read what others are saying about this modem]
Pros
Compact build
Easy setup
Two Gigabit ports that allow you to build two LAN networks in your home
You can use the two ports for link aggregation, just in case you need more bandwidth in future
DOCSIS 3.1 technology allows you to make good use of the bandwidth you pay for
Low lag times makes the modem ideal for gaming
Supports HD and 4K content
Most internet service providers work with ARRIS modems
The modem gives you access to a spectrum analyzer to keep tabs on the quality of your cable connection
Cons
The modem is not compatible with Century Link, AT&T or Verizon
No Wi-Fi capability
Does not support bundled voice services
The modem tends to get warm (not hot) after a while, so maybe you should not mount it on a wall
A little expensive, although the expense is justified
The modem is ahead of its time, meaning that you will be unable to use some of its features at present. The good news is that this makes it future proof
ARRIS SB8200 review verdict: This is a glimpse into the future of data over cable
There are few things as satisfying as buying a product that gains more features with time. The ARRIS SB8200 is the kind of product that will give you this type of joy.
You can enjoy high-speed internet right now, as you wait for the cable company to catch up with DOCSIS 3.1 and link aggregation. In the meantime, you can use up every bit of bandwidth that you pay for and enjoy HD streaming and gaming tournaments with friends.
This modem is a worthwhile investment if it is compatible with your cable provider. Read what owners of this modem have to say.
Read more:
Samsung Q70 Series Review: Good Performance at a Good Price
Sharp TV Reviews: What Buyers Should Know
LG 55UM7300PUA Review: Alexa Built-in 55″ 4K UHD Smart LED TV
Best Budget Sound Bar: Vizio SB3621-E8
Pilestone TP-025 Red-Green Color Blind Glasses Review