*** TVReviewland.com earns commissions on qualifying purchases made through affiliate links ***
Our Sceptre Komodo KU515 50 inch 4K TV review quickly revealed this is an affordable television that provides great pictures. It is one of Sceptre's more high-end offerings for 2019. It was created to deliver both affordable pricing and performance. Is this TV as high performing as it is affordable? A closer look can help us figure it out.
Sceptre Komodo KU515 50 inch 4K TV review part 1: Unboxing
Along with the 50-inch screen, you should find a pair of TV stands and the screws that you will need to attach them. You will also find some user manuals and a warranty. Also in the box is a remote and its batteries, as well as a power cable.
You will find everything you need to set up the TV. Once you are done with the assembly, you should have a nice looking screen in front of you.
First looks
The Sceptre Komodo KU515 is a wide screen TV that looks good in any setting. It measures 44.2 by 27.6 inches, with a diagonal length of 49.5 inches. For its price point and its dimensions, the 50-inch Sceptre KU515 is pretty slim, at only three inches. The bottom of the TV has a panel that holds the inputs and some hardware, which makes the KU515 thicker at the bottom.
The TV is encased in a chassis of metal-black plastic. The display is framed with textured black bezels and the edges of the TV are covered in glossy black trim. This differences in tone give the KU515 an appealing look.
The bottom bezel has the Sceptre logo at the center of it. You will find a couple of control buttons (power, volume, brightness and the like) and an infrared sensor under the logo.
The back of the TV has an allowance for a VESA wall mount setup. It also has a panel which holds the speakers and the input/output ports at the lower section of the television. Our Sceptre Komodo KU515 50 inch 4K TV review is just getting started.
Inputs, outputs and connectivity
There are two sets of ports at the back of the Sceptre KU515, on the right-hand side. One set is downward-facing while the other set faces outwards. If you chose to mount the TV, you would have a hard time reaching the downward-facing ports.
The TV comes with enough ports for all your devices, be they legacy AV electronics or more recent devices. It has four HDMI ports, some of which allow you to watch 4K content from an external source. It also has a coaxial connector for cable or an antenna, a set of AV ports and one USB port.
As for outputs, the TV comes with a 3.5mm jack and an optical audio output.
The Sceptre KU515 is not a smart TV, so it does not come with hardware for Bluetooth, Wi-Fi or Ethernet connectivity.
[Read what others are saying about this television]
Performance: What you should look for in a 4K TV
A television set is a medium to long-term investment. So before you make a purchase, you should have a list of features that you want in the ideal TV set. Here are some of the must-have features you should have on your checklist:
1. Resolution
The more pixels that are packed in a square inch, the better the picture quality should be. So if you find a 1080p screen and a 4K screen going for the same price, find out what the 4K screen has to offer.
Chances are you will get more bang for your buck from the screen with the higher resolution.
2. The type of display panel affects picture quality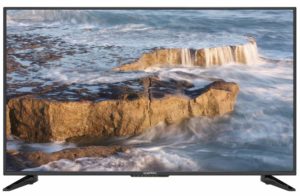 Each type of panel has its own set of benefits and drawbacks. These are measured in terms of the color spectrum, contrast and brightness. Most TVs have LCD, LED or OLED screens.
OLED screens render amazing colors and black levels like the darkest night. They also render amazing contrast. But are expensive, which is why they are only found on premium TVs.
LED screens are cheaper, but their performance varies. LEDs panel that uses localized dimming and back-lighting usually render better picture than LED panels with edge lighting and no localized dimming. Twisted Nematic LCD panels are known for their low input lag, affordability and narrow viewing angles.
3. Inputs
You should get a TV with enough inputs for all your favorite devices. A good TV should have an HDMI 2.1 port that allows the TV to display 4K video from a connected device.
Let us get back to our Sceptre Komodo KU515 50 inch 4K TV review and find out if this television checks these boxes:
Picture quality: Colors and contrast
The Sceptre KU515 has a wide color gamut and can display 16.7 million colors. The chipset of the Sceptre KU515 dips into this wide spectrum of color to render lifelike colors with good black levels.
The color accuracy is also good, with little difference between the colors of the source content and the colors displayed on the screen.
You will enjoy the wide viewing angles of this TV. The colors do not change even if you watch the TV at an angle. Not until you sit right beside the TV.
The display also renders good contrast, thanks to a combination of vivid colors, good black levels and a native contrast ratio of 4,000:1.
Picture quality: Brightness
With a peak brightness level of 250 nits, the Sceptre KU515 can hold its own in a moderately lit room. That said, this is a TV that works best in a dim room.
Picture quality: Input response time and motion handling
The Sceptre KU515 has a refresh rate of 60 frames per second. Sceptre puts the input response time of this TV at 8 ms, which is impressive. They use a technology that they call MEMC (Motion Estimation and Motion Compensation) to make the most out of these numbers.
MEMC works to smooth the motion in fast-paced content. The end result looks like something from a display with a higher refresh rate. The low response time of the Sceptre Komodo KU515 makes it a great screen for gaming.
Picture quality: Upscaling
Sceptre used the chipset on this TV to enhance lower resolution videos and upgrade them to 4K quality.
Sound
The TV comes with two 10 watt speakers that are capable of producing surround sound. At moderate volume, the speakers are loud and clear. They get tinny at high volume, but they do not rattle the TV chassis at all. Still, it is always a good idea to hook up your TV to external speakers. Almost at the end of our Sceptre Komodo KU515 50 inch 4K TV review.
The remote
This is your run of the mill remote, with a power button, some input buttons, a number pad, volume buttons and a set of navigation buttons. You will need to have a line of sight to the TV to use this remote.
Pros
Affordable
Wide viewing angle
4K resolution
Wide color spectrum
Cons
No smart TV capabilities
There are no HDMI 2.1 ports on this TV
Lack of wireless connectivity means that you cannot connect to your devices via Bluetooth
You will notice a tiny amount of glare in a bright room
Low native contrast ratio
Sceptre Komodo KU515 50 inch 4K TV review verdict: A high-resolution TV at a great price
Sceptre has some of the most affordable wide-screen televisions in the market and the Komodo KU515 is one of them. With this TV, you will enjoy good picture quality without breaking the bank. But if you want a smart TV, continue your search. Click here to purchase one.
Read more:
Samsung Q70 Series Review: Good Performance at a Good Price
TCL 40S325 40 Inch Roku Smart TV Review
LG 55UM7300PUA Review: Alexa Built-in 55″ 4K UHD Smart LED TV
Best Budget Sound Bar: Vizio SB3621-E8
Sceptre E248W-19203R Review: A Bargain 24-Inch Full HD Monitor