*** TVReviewland.com earns commissions on qualifying purchases made through affiliate links ***
Our SunBriteTV S-43-4K Signature 4K TV review showed us this is a great outdoor television. Have you ever been torn between a compelling movie and enjoying a perfect summer day? It seems like the people at SunBriteTV wrestled with this exact dilemma. So, they found a way to do both things at the same time. They came up with television sets that can hold their own against the great outdoors.
SunBrite has three product lines of outdoor TVs: The Veranda series has TV sets that work best on a porch or any space that is partially open and completely sheltered from the sun. They also have the Pro series of televisions that work just fine in direct sunlight. In between these two lines is the Signature series, with products that work in partial sunlight. Which brings us to today's TV: The SunBriteTV 43-Inch Signature 4K TV.
This rugged, 43-Inch screen works in all kinds of outdoor weather, from the most frigid of winter nights to hot summers. It meant to be the perfect addition to your deck or patio.
An outdoor TV is meant to do what an indoor TV cannot. It is designed to perform under the glare of bright lights. It is made to withstand the rigors of weather and the odd ding. Let us see how well the SunBriteTV Signature 4K TV holds up.
SunBriteTV S-43-4K Signature 4K TV Review part 1: Unboxing an outdoor TV
Being a rugged TV, the SunBriteTV S-43-4K is heavier than most 43 inch indoor TVs. You will get a nice little workout as you unbox and assemble the 41-pound screen. The TV ships with a warranty, a user manual, basic mounting gear and a weatherproof remote. You should know that this TV does not come with inbuilt speakers. Nor does it ship with an external soundbar.
There are a few other things that you will not find in the box: A dust cover, which you will need, and a table stand. Before you buy the TV, find out if it ships with a ceiling or wall mount. The information will help to complete the list of accessories that you will need to buy along with the TV.
Design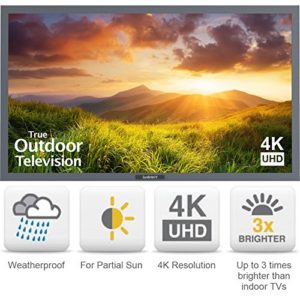 The S-43-4K comes in black, silver or white and measures 39 by 23 inches. At a depth of 2.7 inches, it is bulky compared to similar 43 inch indoor TV sets. Which figures, because most rugged devices tend to be chunky.
The aluminum chassis is made to weather the elements. It is coated with powder to prevent surface damage like scratches. Its seams are also sealed to keep water from seeping into the TV guts. You will notice a few basic controls on the left side of the TV. They are covered in a membrane that prevents liquids and other destructive things from getting into the TV.
There is a 200x200m VESA wall mount pattern at the back of the TV, where the weatherproofing is even more pronounced. The input panel is housed in an airtight compartment inside the TV. The outgoing cables exit the compartment through watertight rubber seals. Our SunBriteTV S-43-4K Signature 4K TV review is just getting started.
[Read what others are saying about this TV]
Connectivity
The SunBriteTV S-43-4K has no smart capabilities, so the manufacturer left out the customary Wi-Fi and Bluetooth adapters that come with many modern TVs. But you can plug an external Bluetooth adapter into one of the TV set's USB ports.
The manufacturer also included an Ethernet port and a built-in HDBaseT receiver. You can connect a cat5E cable to an input source with 4K video and let the HDBaseT receiver decode and render your UHD/4K content.
Inputs
As for the inputs, the TV comes with two HDMI ports, an Ethernet port and an allowance for RS232 connection. It also comes with AV ports for your older devices. Ports like a set of AV component ports, a composite output, a VGA input and an S video input. Sadly, the SB-S-43-4K does not come with an optical audio output. But it does come with an S/PDIF Audio port and a variable 1/8 inch audio jack.
You will also find a coaxial connector that allows you to connect an antenna or cable box to the screen. The next section of our SunBriteTV S-43-4K Signature 4K TV review will dive into the picture quality.
Picture quality
The most important performance metric for any TV is picture quality. Great picture quality is a combination of a wide color gamut, high color accuracy, a high contrast ratio, sufficient brightness and high resolution. Does the SunBriteTV Signature 4K TV check these boxes?
1. Brightness
The S-43-4K is a 43 Inch, LED display that is meant to work in partial sunlight. Which is why it has a peak brightness level of nearly 800 nits, way brighter than your average indoor TV.
As for the black levels, the TV goes as low as 0.14 nits. This is more than five times your average high-end TV (the benchmark being 0 nits). But that is the cost of having a bright TV that can work in partial sunlight: Even the black levels are higher than those of dimmer screens. Not that you will notice in the daylight.
2. Color and contrast
The TV has 4K resolution. We expect that each pixel in a 4K TV should be able to display a wide spectrum of color. Not so with the SunBriteTV S-43-4K. First off, this is not an HDR TV and it does not have a wide color gamut. Also, the colors tend to be a little inaccurate, but it is not noticeable.
As for contrast, the TV has an impressive native ratio of 5610:1. This makes for a clear and detailed picture, thanks to the difference in bright and darker colors.
3. Input lag
The TV has an input lag of only 30 milliseconds, which is comparable to gamer benchmarks of around 20ms. This makes the SunBriteTV SB-S-43-4K the one you want for outdoor gaming.
Sound
The SunBriteTV Signature 4K TV has no inbuilt speakers, so you will need to find yourself a set of sturdy, weatherproof speakers. It just so happens that the manufacturer has a 20-watt soundbar that works great with this particular model of TV.
Remote
The remote is a tough little thing, covered in a water-resistant membrane. It has the usual buttons: navigation, volume control, number pad, power and input. You will have to look at the remote whenever you want to press a button because all of them have the exact round shape.
Toughness and durability
An outdoor TV has to weather the elements or little dings, and the SunBriteTV Signature 43 Inch does just that. Its aluminum chassis is coated with powdered metal, which makes it rust proof and nearly immune to scratches or chipping. The chassis also protects the inside of the TV from slight knocks and the elements.
The TV was also made to work in temperatures ranging from -24° to 122° F. (Or -31° to 50°C.)
Simply put, this outdoor TV was built to last. To wrap up our SunBriteTV S-43-4K Signature 4K TV review, here's the summary of the pros and cons of this television:
Pros
A rugged, weatherproof TV that works in all seasons
Lighter than many other brands of outdoor TV
The TV has a nice design and is made with high-quality materials
It has high brightness levels that allow you to watch videos in a partially sunlit space
4K resolution
Cons
Expensive
Narrow viewing angles
The TV has no HDR or wide color gamut
No smart TV capabilities
Edge-lit backlighting results in uneven brightness levels at the edges of the TV
No built-in speakers
SunBriteTV S-43-4K Signature 4K TV review verdict: Should you buy it?
If you love TV and spend a lot of time in the elements, then yes. The SunBriteTV S-43-4K is tough and durable. Its picture quality is good. What's not to like? Click here to purchase one.
Read more:
Samsung Q70 Series Review: Good Performance at a Good Price
TCL 40S325 40 Inch Roku Smart TV Review
LG 55UM7300PUA Review: Alexa Built-in 55″ 4K UHD Smart LED TV
Best Budget Sound Bar: Vizio SB3621-E8
Sceptre E248W-19203R Review: A Bargain 24-Inch Full HD Monitor