*** TVReviewland.com earns commissions on qualifying purchases made through affiliate links ***
Our Lenovo S2 Smartwatch review is for anyone who wants an affordable smart watch. It comes with lots of cool features that separate it from conventional wristwatches like a heart rate monitor that gives you real-time data.
The S2 comes with a 1.4-inch display that is used to navigate through the many features and an impressive battery life of seven days. The display is made out of Gorilla Glass, so you don't have to worry about the watch face being damaged if you accidentally hit your hand against something hard. You get all this at about the same price of ordering a meal for two people! Let's dive right into our Lenovo S2 Smartwatch review for a more detailed look.
Lenovo S2 Smartwatch review: First thoughts
Lenovo is better known for its other electronic products like computers, tablets, and smartphones, but they know a few things about making the type of smartwatch many people want. We already went over how affordable the S2 is, so let's take a look at some other noteworthy things about this smart watch.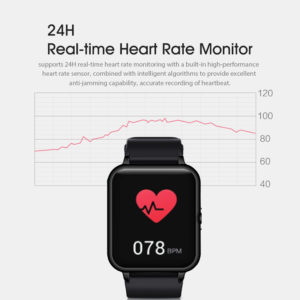 The S2 is pretty bare compared to the fancier smartwatches around like the Apple Watch Series 3. It does not come with Wi-Fi connectivity, GPS, or LTE capabilities. It uses Bluetooth to communicate with a user's smartphone and it supports everything up to the 4.2 standard.
The box comes with:
An S2 smartwatch
A Magnetic Charger
A silicone strap
A user manual
There's nothing fancy about the squared shape of the S2, but it does allow the entire watch face to serve as a display. The backside of the watch houses charging contacts and a heart rate monitor. The right side of the device has the only button you will find on the S2. It doubles as a "Back," and "Power" button.
The body of the smartwatch is made from lightweight zinc alloys, and its removable straps are made of nylon. The standard 22 mm removable straps that come with the S2 are quite comfortable, but you are also free to upgrade to a fancier strap if that suits your style better.
[Read what others are saying about this smart watch]
The S2 is a water-resistant smart watch that can handle up to 3 ATM. The display comes with 240 x 240 resolution and it is used along with the single button on the right side of the watch to control all of its functions.
The S2 weighs about 30 g, it's 9.9mm thick, and it comes with a 180mAh battery that gives it up to seven days on a full charge. Of course, battery life goes down if you keep features like the remote camera, pedometer, sleep tracker, or heart rate monitor on for prolonged periods.
There are nine different sport modes for users to play with and the S2 can sync with your phone so you can view your notifications on it. These are Badminton, Ping Pong, Swimming, Football, Basketball, Cycling, Running, and Walking. Just turn any of these modes on before starting the activity and the watch keeps track of how hard you're working.
Other noteworthy features of the S2 include:
Breath training
Sedentary Reminder
Alarm
Sleep Monitor
Remote Camera
Pros:
Very affordable
Has essential smartwatch features
Lightweight
Water-resistant
Excellent for fitness tracking
Cons:
Does not come with GPS, LTE, or Wi-Fi connectivity
Not sure how we feel about blue and red watch straps
Lenovo S2 Smartwatch review verdict: Would have sold at much higher prices
S2 is more than an affordable smartwatch. It comes with many of the features you would want in a smartwatch. It syncs with your phone and becomes a satellite of it, and it's great for tracking body vitals like your heart rate or how well you sleep. You get a lot more than you paid for with the S2. It's a great starter smartwatch, and you might end up sticking with it for years. Click here to learn more about this smartwatch.
Read more:
Hisense R6 Series Review: A Step Ahead of Other Budget TVs
Samsung Class 8 Series Review: It's a Good Buy
Samsung Q70T Review: Good QLED TV, Excellent Gaming Television
Westinghouse 58 Roku TV Review: Widescreen 4K at an Unbeatable Price
Vizio V655-H19 Review: Useful Features and Good Performance On a Budget