*** TVReviewland.com earns commissions on qualifying purchases made through affiliate links ***
This Google Nest WiFi Pro review doubles as a guide to making a home network that is flexible and robust, with good coverage.
You can buy the Google Nest WiFi Pro as a single unit, a pack of two, or a three-pack. Each piece is a standalone WiFi router that can also function as an access point in a mesh network.
These small, curvy routers look like decorative pieces and blend nicely into your living space's background. They come in neutral colors that should complement the décor in most homes.
Let's jump right into our Google Nest WiFi Pro review to see if the Google Nest Pro's compact frame is a disguise for roaring power, excellent coverage, and impressive speeds. We find out by looking at the features and performance of this plug-and-play WiFi router.
Google Nest WiFi Pro review: How WiFi 6E informs the performance of a tri-band router
The latest wireless home router from Google advertises WiFi 6E capability. This means that the Google Nest Pro offers connectivity on the 6GHz band and the usual 2.4GHz and 5GHz bands.
What WiFi 6E has to offer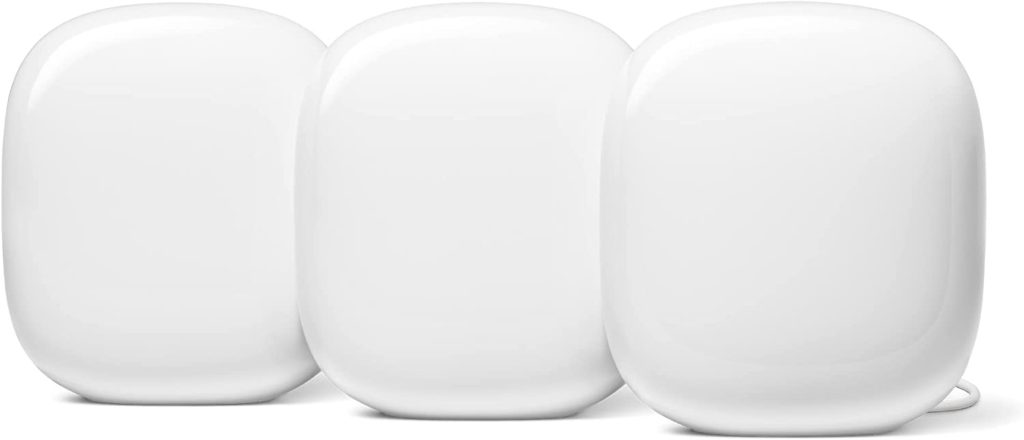 Think of a frequency spectrum as a multi-lane highway with radio signals and data packets instead of cars. Some of the 'lanes' on the 2.4GHz and 5GHz spectrums are reserved for non-WiFi usage. In contrast, most of the lanes (channels) in the 6GHz frequency range are available for WiFi use. This makes the 6GHz spectrum the most contiguous of the three WiFi bands.
A router with its pick of 6GHz' lanes' needs minimal processing power to find free channels for your data. The 6GHz spectrum also offers wider lanes (channels) to accommodate massive traffic from content like HD video. Even better, the 6GHz spectrum is free of electronic interference that affects 2.4GHz and 5GHz bands.
In addition to the native benefits of the 6GHz band, the WiFi 6E standard includes features that cover traffic management, efficiency and security.
Set up for the Google Nest WiFi Pro: Finding the right spot for your router
The Google Nest WiFi Pro is as close as you get to a plug-and-play router. Physical setup is just as easy because the device can fit anywhere. A wall mount install is out of the question, but you still need to place the router at a height that ensures good coverage.
Placement of the Google Nest WiFi Pro needs you to consider the following:
1. Location of your ISP modem
You'll need to connect the primary Nest router and the internet provider's modem with an Ethernet cable. For optimal results, the cable should be fairly short. The Nest WiFi router also needs to be near an electrical outlet.
2. Home layout and line of sight
You can create a mesh network with a maximum of five Google Nest Pro routers. Having a line of sight between at least two of the nodes in your home network would be ideal. This means that you should place the routers somewhere with zero obstructions.
Sometimes a direct line of sight isn't possible, which is where the matter of distance comes into play. Google says the Nest Pro router offers up to 2200 square feet of coverage. Placing additional Nest Pro routers within range of each other will compensate for corners and, sometimes, walls. A good rule of thumb is that nodes in the mesh network should be two or three rooms apart.
It's worth noting that WiFi routers need to be close together if you live in an apartment block. The shorter distances lower the possibility of interference from your neighbors' WiFi networks.
[Read what others are saying about this router]
Set up and ease of use: Google Home app
There's no web-based interface to help you manage the Google Nest Pro WiFi router. Instead, you install the Google Home app on your Android or Apple device. Once you connect the primary Nest router to the ISP modem and a power source, the setup goes like this:
The LED on the Nest Pro WiFi router will turn white
Now open the Google Home app, select 'Set up device' and follow the prompts
At some point, the app will ask you to scan the router's QR code or to key in the router's serial number
The router will appear on the Google Home interface, and the app will ask you to put the device in a room
Lastly, the app will ask you for a WiFi name and password for your home network
You'll need to repeat the steps above for every Nest Pro WiFi router you add to your home network.
With the setup out of the way, the Google Home app will now manage your mesh network with minimal input from you. Here are the features that you can access through the app:
1. Alerts
Google Nest WiFi routers perform periodic self-exams to check on the health of your home network. The app will send alerts if there's an issue with network performance. These notifications pop up in case of a weak signal, congestion, or signal loss.
2. View and manage devices on the home network
Google's Home app displays a complete list of devices using your WiFi; you can disconnect them when you want. The Google Nest Pro also has a feature that limits screen time by removing devices from the network at your chosen time. This is a helpful feature in homes with young kids.
3. Guest network, security, and access control
Guests can access a separate WiFi network with fewer privileges than the main family network. You can limit the number of shared devices available on the guest network. For example, you can allow TV access via Chromecast and keep the security feed off the guest network.
The Google Nest Pro also has tighter security to prevent unwanted access to your WiFi network.
Google Nest WiFi Pro review: Performance
It's worth mentioning that size is a factor when it comes to hardware performance. This holds true for audio equipment as well as WiFi routers. Does the compact form factor of the Google Nest WiFi Pro limit its signal strength, or does the little device live up to its advertised coverage of 2200 square feet?
1. Speed and stability
The Google Nest Pro has a pair of Gigabit Ethernet ports. One of the Ethernet jacks is a WAN port with a maximum speed of 1Gbps. The exact speed cap applies to the second port you use to connect devices in your local network. A speed cap of 1Gbps means you get maximum speeds of under 1Gbps.
This limitation only has a minor effect on your overall experience, even with heavy usage from multiple users. The Google Nest Pro manages to deliver fast and stable internet by:
Band steering
The Google Nest Pro router will put demanding traffic like video calls and HD video streaming on the 6GHz band. This measure ensures quality during online gaming, VR content, high-resolution streaming, and real-time traffic. Traffic with fewer bandwidth requirements gets channel allocations on the 2.4 and 5GHz bands.
Automatic network optimization
The Nest Pro monitors its WiFi network, and the primary unit will send notifications to the Google Home app.
If the network develops a basic fault, the router will send an alert and try to fix the problem. The router will deal with performance issues with automatic network optimization. The device will send an alert to the Google Home app if auto-correction fails.
2. Coverage and signal strength
The performance of earlier versions of Google routers suggests that the Nest Pro will provide comprehensive coverage with solid signal strength.
Take the Google Nest, which delivers solid signal strength, even at a distance of 7 feet. Google Nest has a throughput of 600 MB per second at this distance. Logic suggests that the Google Nest Pro will be faster, thanks to the 6GHz band absent in earlier versions of the device.
3. Google Nest WiFi Pro review: Backwards compatibility
The Google Nest Pro is incompatible with earlier versions of Google's home WiFi routers. This limitation means you should only buy the Google Nest Pro router if you're creating a brand-new home network with all-new equipment.
Pros
A tri-band router offers more capacity and speed for your home network
Google Assistant is no longer a feature in Google's Nest routers
WiFi 6E capability allows for a faster connection with minimal interference
Native support for low-power wireless standards (like Matter and Thread) that manage your smart home devices
The Google Nest WiFi Pro is a plug-and-play device that automatically manages different aspects of network performance
Cons
Incompatible with earlier versions of Google Nest and Google WiFi devices
The Ethernet ports on the Google Nest Pro support a maximum speed of 1Gbps
The lack of a local web user interface means you can only control the router with the Google Home app
Privacy issues that result from linking your home's network traffic with your Google account
The Google Nest WiFi Pro is not a good fit for the power user who needs complete control of their internet router
Google Nest WiFi Pro review verdict: A plug-and-play router that takes care of the little details
This Google Nest WiFi Pro review reveals a device that is easy to use with many useful features. The device is perfect if you want a hassle-free home network that runs itself without your input. You should get decent speeds, a solid signal, and decent coverage from this WiFi 6E router.
It's worth noting that Google can access the network traffic that passes through their WiFi routers. This comes down to the company's insistence that you use a Google Account to run their devices, from Android phones to televisions. Click here to learn more about this router.
Read more:
House of the Dragon Episode 7 Review-Recap: Death (And Marriage) At a Funeral
LG UQ9000 Reviews: Easy on the Eye, Easy on the Wallet
Westinghouse 65-inch Roku TV Review
House of the Dragon Episode 8 Review-Recap: First Blood
Amazon Kindle Scribe Review: An E-reader That Lets You Sketch and Scribble