*** TVReviewland.com earns commissions on qualifying purchases made through affiliate links ***
Our 2019 Amazon Fire HD 10 tablet review was rather interesting. You could be forgiven for confusing the Fire HD10 tablet with its smaller-sized predecessors. When you look past the surface though, you will be happy to find that this iteration of Amazon's Fire Tablet is a marked improvement of earlier models.
It also helps that the Fire HD 10 is affordable, even with new and exciting features. So, is this tablet a good investment? Let's dive into our Amazon Fire HD 10 Tablet Review.
Amazon Fire HD 10 Tablet Review Introduction: Unboxing
The tablet ships with a 9-watt power adapter, a USB 2.0 cable and a user guide. It does not come with a case; you will have to buy one separately.
Design and build
The Fire HD 10 looks a lot like its predecessor, except bigger. It is a 10-inch screen that is only 0.4 inches thick. The display is large enough for movies and TV, with ample space for gaming and work. The screen also makes an awesome control panel for a smart home.
The tablet is made of tough, durable plastic that comes in black, punch-red or Marine blue.
IO and connectivity
The tablet only comes with a micro-USB slot and a micro-SD slot. As for connectivity, the device comes with a dual-band WiFi antenna that supports both private and public WiFi networks. The wireless adapter does not support peer-to-peer networks.
Unlike many tablets in the market, the Fire HD 10 also lacks 4G or any other type of connectivity to cellular networks.
CPU, RAM and storage
The Fire HD 10 runs on a quad-core processor that consists of a pair of 1.8GHz cores and a pair of 1.4GHz cores. The processor has 2GB RAM to help them along.
As for storage, you get to choose between the 32GB and 64GB variants of the Fire 10. The tablet has an allowance that lets you to slot in a micro-SD card with a storage capacity of up to 256GB. This Amazon Fire HD 10 tablet review is just getting started.
Interface: OS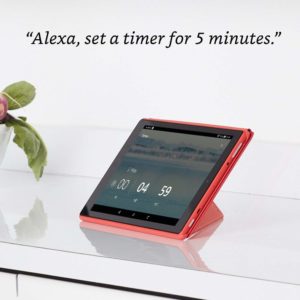 The Amazon Fire HD 10 runs an Android system that looks and feels nothing like the Android interfaces we are used to. Amazon stripped Android to the core and fashioned it into an invasive skin that is the very likeness of Amazon's product placement machine.
After you set up your tablet, you will be greeted by Amazon ads on your lock screen. Your installed apps have to share screen space with thumbnails of apps that Amazon is pushing. The same goes for content. This can be tiresome, but it is par for the course with many Amazon devices. For a price, however, Amazon can take (some of) the ads and promotions away.
The OS does not lend itself to user customization. Instead, the contents of the tablet are split into four categories, each with its own page. All four pages look like the home screen. One holds music, another holds video, a third contains books while the fourth page holds the apps.
Amazon Fire HD 10 Tablet Review: Interface performance
The Google homepage is an example of a simple yet powerful interface. It provides users with the most important, useful and popular tools in the Google suite. Amazon's interface is the exact opposite, thanks to the constant ads and recommendations.
Even with all the distractions, the interface is still smooth, responsive, intuitive and easy to use. The hardware that powers the Fire HD 10 makes the interface responsive, with little lag. You will not experience freezing or choppy animation with this interface.
There is also a solitary benefit to Amazon's aggressive recommendations. The interface sometimes pushes products and content that is actually useful.
Interface: Hands-free Alexa
Alexa ships with most Amazon devices, including the Fire 10 tablet. This is where it gets really good: The Fire 10 tablet has an internal microphone that is always on standby, waiting for your command. This means that you can call Alexa speaking, just like you would with anyone of Amazon's smart speakers.
A voice command to Alexa will light up an idle Fire HD 10. The tablet will proceed to execute said command. Thanks to Alexa, you can also use the tablet as a mobile control panel for compatible smart devices.
Note that the tablet only has a single microphone, so it will only catch voice commands in a room free of ambient noise. Calling Alexa in a space full of Alexa devices can be hilariously problematic.
Interface: Content and apps
You will have your choice of apps from the Amazon store, which has a variety of streaming apps, games, tools and useful Alexa skills. All your best streaming apps are available to you, so you will have access to Netflix, HBO, Hulu, Vudu and more. Unless the app you need is from Google.
Which brings us to the downside of Amazon's customized Android OS. It does not support Google services. This means no YouTube, Gmail, Google calendar or Google Maps. Many people would find the lack of these apps to be a deal-breaker.
[Read what others are saying about this tablet]
Display
The tablet boasts a 10.1" IPS display. With a resolution of 1080p, the panel delivers Full HD content by performing accurate color reproduction and rendering excellent contrast and sharpness. The end result is great picture quality marked by with vivid color and sharp detail.
With peak brightness levels of 405 nits, the screen is bright enough for outside use. The tablet has an ambient light sensor that helps to adjust the screen in different settings. We'll cover the sound features and battery life before wrapping up this Amazon Fire HD 10 tablet review.
Sound, camera
The Fire HD 10 has a pair of internal stereo speakers with Dolby Atmos audio. They are loud and clear, even in a large space.
This tablet has a 2MP camera at the back and a 2MP front-facing VGA camera. The front-facing camera can record 720p picture, but the quality is not that great. Tablets rarely have high-performance cameras, so the cameras on this tablet make sense.
Battery
This is where this device shines. The battery can last up to ten hours as you stream content over WiFi.
High-quality batteries can take a long time to charge. For example, the one inside the Fire HD 10 takes five hours to reach full charge when it is completely drained. Let's summarize all the main things we noticed during our Amazon Fire HD 10 tablet review.
Pros
The tablet allows you to command Alexa without pressing a single button
Excellent battery life
A high-resolution IPS display that is bright enough for the outdoors
Access to Amazon Prime Video, which is useful for anyone with a Prime subscription
Affordable
Cons
You have to get used to the lock screen Amazon ads unless you fork out a small amount of money for an ad-free experience
The cameras are underwhelming
For an Android-based tablet, the Fire 10 HD has a dearth of useful Google apps. In fact, it lacks support for Google services like Maps, YouTube, Play Store and Gmail
No wireless (4G or 3G) wireless data, only WiFi
Amazon Fire HD 10 tablet review verdict: This is a great tablet for a person that operates in the Amazon ecosystem
It is not so great for a person that does not. The invasive interface seems to have embedded ads, which can be jarring for a person that is not a full-on Amazon user.
To get the full, immersive experience with the Amazon Fire 10 HD, you have to lean into the Amazon world. A prime subscription makes the tablet intuitive and a joy to use. For an extra fee, you can get rid of the annoying ads.
Add to that a great display, an excellent battery, as well as hands-free Alexa, and you have yourself a winner.
Read more:
Samsung Q70 Series Review: Good Performance at a Good Price
Naruto Television Show: The Enduring Appeal
Sony 85-inch TV XBR85X850F Ultra 4K HD: Is It Too Big to Succeed?
Samsung Crystal UHD Review: Good Picture Quality for a Good Price