*** TVReviewland.com earns commissions on qualifying purchases made through affiliate links ***
Here's what we discovered during our Amplified HD Digital TV Antenna from U-MUST-HAVE review.
In the age of streaming apps, we sometimes forget just how much content is broadcast into the airwaves.
We can easily forget that the content that comes through our antennas is of the highest quality. Much higher than the compressed signals of cable and satellite TV. And it is free. All major networks broadcast high-quality signals that carry many of your favorite shows. Again, for free.
That means that depending on where you live, you probably have access to thousands of channels — each with great content that comes in both HD or SD. And what better way to watch your favorite crime show than with a 2019 model of the Amplified HD Digital TV Antenna from U-MUST-HAVE?
Amplified HD Digital TV Antenna from U-MUST-HAVE review part 1
U-MUST-HAVE is one of the best-selling brands of indoor antennas on Amazon. The company offers products that are good-looking, easy to install, and, most of all, powerful. Some models of U-MUST-HAVE antennas can pick up signals that originate from more than 100 miles away.
Others models work best for shorter ranges. Models like the 2019 release of the 80-mile Amplified HD Digital Antenna.
The 2019 Amplified HD Digital TV Antenna from U-MUST-HAVE
The U-MUST-HAVE indoor antenna looks nothing like the clothes hanger that Adam and Eve used to catch signals in the seventies. It is a square, wafer-thin panel that you stick onto your wall with the help of a few adhesive pads. This compact digital receiver measures 10 inches by 10 inches. At only half an inch thick, it looks more like a mousepad than an antenna. It is made of lightweight plastic and only weighs 0.75 pounds.
The antenna comes in both black and white. It goes well with any kind of décor without calling attention to itself. This Amplified HD Digital TV Antenna from U-MUST-HAVE review is just getting started.
[Read what others are saying about this television]
What is in the box?
Along with the antenna, you should find an 18-foot coaxial cable to connect the TV to the antenna. You will also find an amplifier that you can use. It comes in handy if you live in a hilly, wooded or mountainous area. Or if the nearest broadcasting station is more than 60 miles away.
The amplifier is powered via a USB port and comes with its own USB cable. It also comes with its own power adapter that you can plug into an outlet. Lastly, you will find some adhesive pads that are used to mount the antenna onto the wall.
Setup: Mounting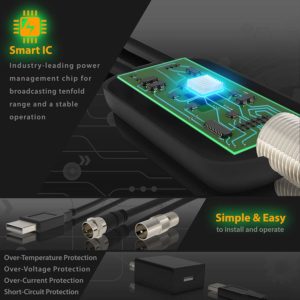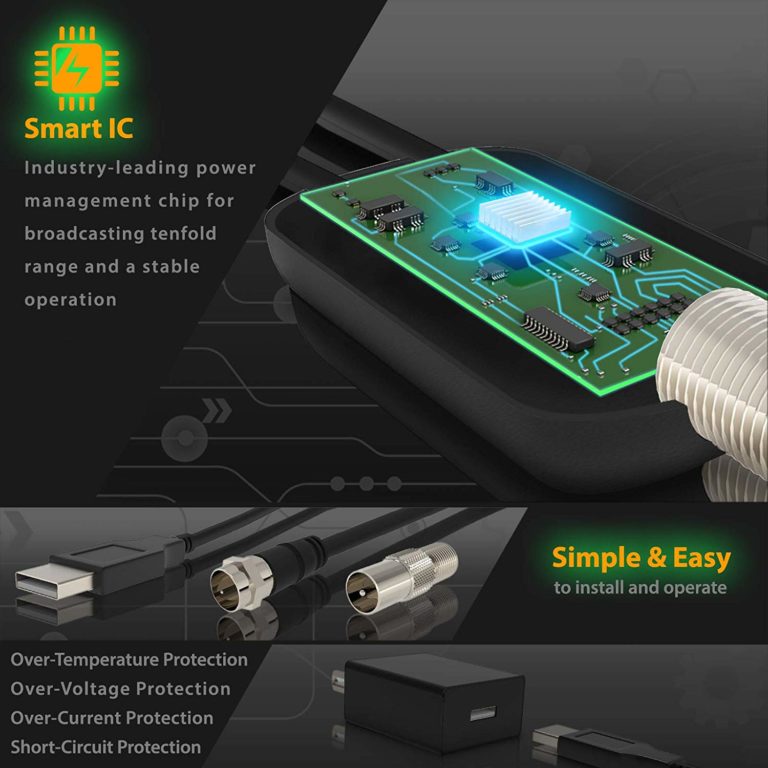 This ultra-slim antenna only takes a few minutes to set up. Once you find an optimal position to mount it, that is. For the U-MUST_HAVE antenna to work really well, you will have to find a place in your house with good reception. Often, that place is as close as possible to the outdoors. A spot that is close to a window will usually work. Also, avoid placing the antenna next to electronic devices that can interfere with the signal.
Once you find the right spot, unwrap the adhesive pads that come with the antenna and stick them onto the four corners at the back side of the device. The pads are sticky on both sides, so go ahead and place the antenna onto your preferred spot.
Setup: Cabling
If your home is close to a broadcasting station or repeater, then use the coaxial cable to connect the TV and antenna directly. But you might live in an area with terrain that weakens signals, or someplace far from a broadcast station. In which case, you will have to use the amplifier.
First, connect the amplifier to the end of the coax cable that was meant for the TV. Next, connect the amplifier to the television's coaxial port. Lastly, use the amplifier's USB cable to power the device from a USB port on the TV. You could also power the amplifier directly from an outlet, using the power adapter and USB cable.
You will probably find the 18-foot long cable to be a little short for a neat cabling job, especially if the best spot for the antenna is some distance from the TV.
Performance: Range
This antenna has a moderately long range of 65 to 80 miles. It comes with an internal signal booster. That said, to receive signals from 80 miles away, you will need to add the amplifier to your setup. This will allow the antenna to receive a larger number of channels.
You should expect signals from major broadcasters like CBS, ABC, Fox and NBC.
To get a complete list of the channels available in your area, go to dtv.gov/maps. Use the website to get an idea of how the antenna should perform at its best.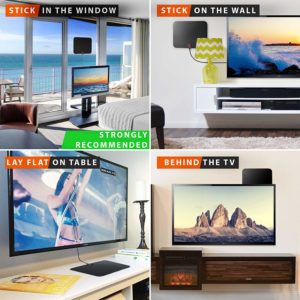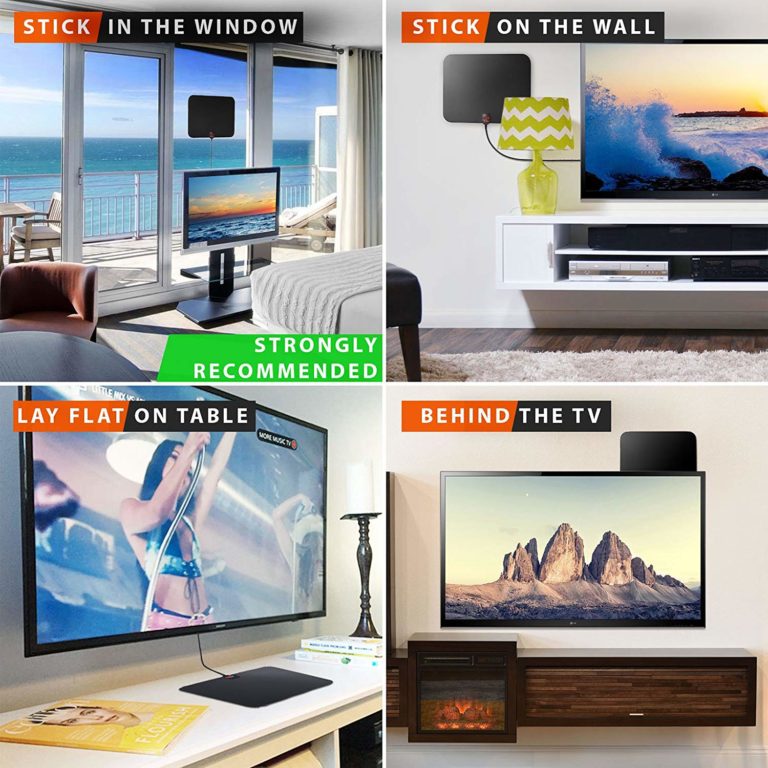 Performance: Interference
The people who made this antenna crossed their T's and dotted their I's. So the antenna will not start freaking out when it comes across an FM or cell-phone signal. That means no weird sounds and jagged pictures when your phone rings.
Performance: Picture quality
The U-MUST-HAVE 2019 Amplified HD Digital TV Antenna renders excellent image quality. Due, in large part, to the fact that content from broadcast signals is not compressed like streamed content. You will get to enjoy SD and HD video of the highest quality. The antenna will receive and render 1080p and 4K/UHD video.
Best of all, you will never have to experience the buffering and pixelation that comes with a shaky internet connection. We'll wrap up this Amplified HD Digital TV Antenna from U-MUST-HAVE review shortly.
Pros
Has an 85-mile range
Blends in nicely in the home
Small, super-thin form that makes it easy to mount
Easy to install
Comes with an amplifier
Affordable
Cons
The broadcasting station must be within 80 miles of the antenna. Still, this range is pretty good for an indoor antenna
You must mount the antenna far away from electronics to prevent interference
The 18-foot cable might not always be enough to cover the length between the optimal spot for the antenna and the TV
Amplified HD Digital TV Antenna from U-MUST-HAVE review verdict: Perfect start for anyone who wants to cut the cord from cable
If you are tired of paying monthly fees for cable, then you should get the 2019 U-MUST-HAVE indoor antenna with a 65 to 80-mile range. It takes almost no effort to set up this nifty device. Its powerful amplifier allows you to receive signals that originate from broadcasting stations that are pretty far away.
The U-MUST-HAVE indoor antenna will open you up to a whole new perspective. It will allow you to watch all your favorite channels and other channels that you never knew existed. At 1080p and 4K resolution. All for the one-time payment of this super-cheap receiver.